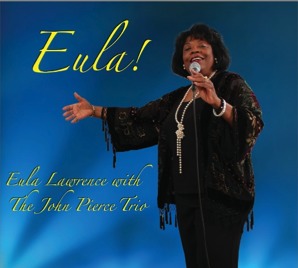 One of Boston's finest vocalists and a native of Philadelphia, Ms. Lawrence has been a featured artist at both the Boston Globe Jazz Festival and the Toulon Jazz Festival in Toulon, France. She was a 1991 Boston Music Award nominee for Outstanding Jazz Vocalist, and has appeared an unprecedented five times at Boston's annual gala benefit Steppin' Out, attended by over 3,500 people. In addition to opening for such stars as Eartha Kitt, Linda Hopkins, Jim Bailey, Vic Damone, Jimmy James and Della Reese, Lawrence has performed with many of the top names in jazz, including George Benson, McCoy Tyner, Donald Byrd, Bobby Timmons, B.B. King, Johnny "Hammond" Smith, Roy Haynes and Antonio Hart.
In 1993, Ms. Lawrence starred in her own television special for WGBH-TV, An Evening with Eula Lawrence, for which she garnered an Emmy Award nomination. Her stage and film credits include the cabaret hit Cole to Cole, featuring the music of Cole Porter and Nat King Cole, and the soundtrack for the Walt Disney feature film Wild Hearts Can't Be Broken. Ms. Lawrence's recordings include the Leonard Hochman CD Until Tomorrow, recorded on Brownstone Recordings, Different Feelings on the Soneu label (featuring Johnny "Hammond" Smith,) and now her first recording as a band leader, Eula!
Backing her up on this CD is a trio of Berklee College of Music faculty members led by bassist John Pierce, with Tim Ray on piano and Jon Hazilla on drums. John and Eula met working with Craig Ball's White Heat Swing Orchestra, where Eula was the featured vocalist and John played trombone. Pierce, who is also the engineer and producer for this recording, has performed or recorded with many artists, including Lou Rawls, Tony Bennett Gladys Knight, Joe Beck, Patti Austin and J. Geils.